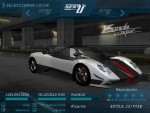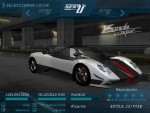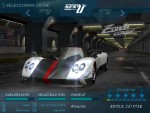 Pagani Zonda Cinque (NFSHP: 2010 N-Wii)
by: Chase_UC

Customs:
#Rims
#Window tints
#Color (body, rims, calipers, spoilers)
#All Upgrades.

-Bugs:
#Not all parts are customizables

-Replaces: CELICA

INFO:
#Model extracted from Need For Speed Hot Pursuit 2010 (Nintendo Wii)
#Not all parts are available to customize
#Low Poly (but it's very acceptable)

-Credits:
#nfsu360: ModTools 1.1
#EA Games and Criterion Games: Mesh and Textures
#LuckxR: Convert Textures
#Nikku: Ripping the Model
#Oleg: ZModeler.
#Adobe Photoshop: DDS format

-Tools:
#NFSU ModTools v1.1
#ZModeler v1.07 (registred)
#ZModeler v2.2.1 (registred)
#Photoshop CS4

-Thanks for download!!
Download:
NFSCars.net