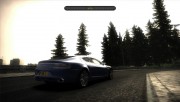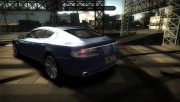 2010 Aston Martin Rapide

Ripped from Forza 3
Converted by F.R.
Replaces Aston Martin DB9

Features:
Bodykits*
Spoiler
Rims
All Performance parts
All Visual parts

Other features:
-Working brake light texture
-Interior color options

*See pictures for more details


Credits:

Arushan - MW Modtools
Autodesk - 3dsMax
Boris Vorontsov - ENB Series
FOX - Performance data templates
Oleg - Zmodeler 2
Turn 10 - Forza Motorsport 3

and etc....

Installing cars for nfsmw can be found here:
http://www.nfscars.net/forum/showthread.php?t=19953

Notes:

Mid poly model. 50-60k poly count. Should run fine on older computers.

Download: http://www.nfscars.net/file/view/mostwanted/12453.aspx